New Samsung Galaxy Watch 6 Classic renders have arrived, giving us a detailed look at the rumored circular bezel. In fact, the leak reveals more than just the bezel, giving us a detailed look at the entire watch, leaving nothing to the imagination.
The curved bezel returns to the Galaxy Watch 6 Classic
Long-time Galaxy Watch fans were disappointed that it didn't have a round bezel on everything Galaxy Watch 5 modelsand it seems that Samsung heard their cries and decided to introduce a 'Classic' version this year which – like Galaxy Watch 4 Classic – it will have a bezel that can rotate 360 ​​degrees and improve the user's view.
With the previous examples, this can be used to view the list of contents on the screen, read messages or switch between different widgets. It made watches easier to control and – more importantly – meant you could interact with the watch without touching the display.
Otherwise, the design is as much as you'd expect and looks like a cross between the Galaxy Watch 5 Pro and the Galaxy Watch 4 Classic. It has a raised, curved bezel with a white pointer printed on the inside from the Watch 5 Pro, and a magnetic silicone strap that made the 2022 watch easy to put on and take off. It also has the same arrangement of two buttons on the side.
Galaxy Watch 6 Classic images
Although the leak didn't come with anything new, there there have been many rumours about what the Watch 6 series will be. It looks like the Galaxy Watch 6 Classic will have a bigger display than its predecessor. A 1.47-inch Super AMOLED screen has been revealed, with a pixel-dense 470 x 470 resolution to provide excellent visuals.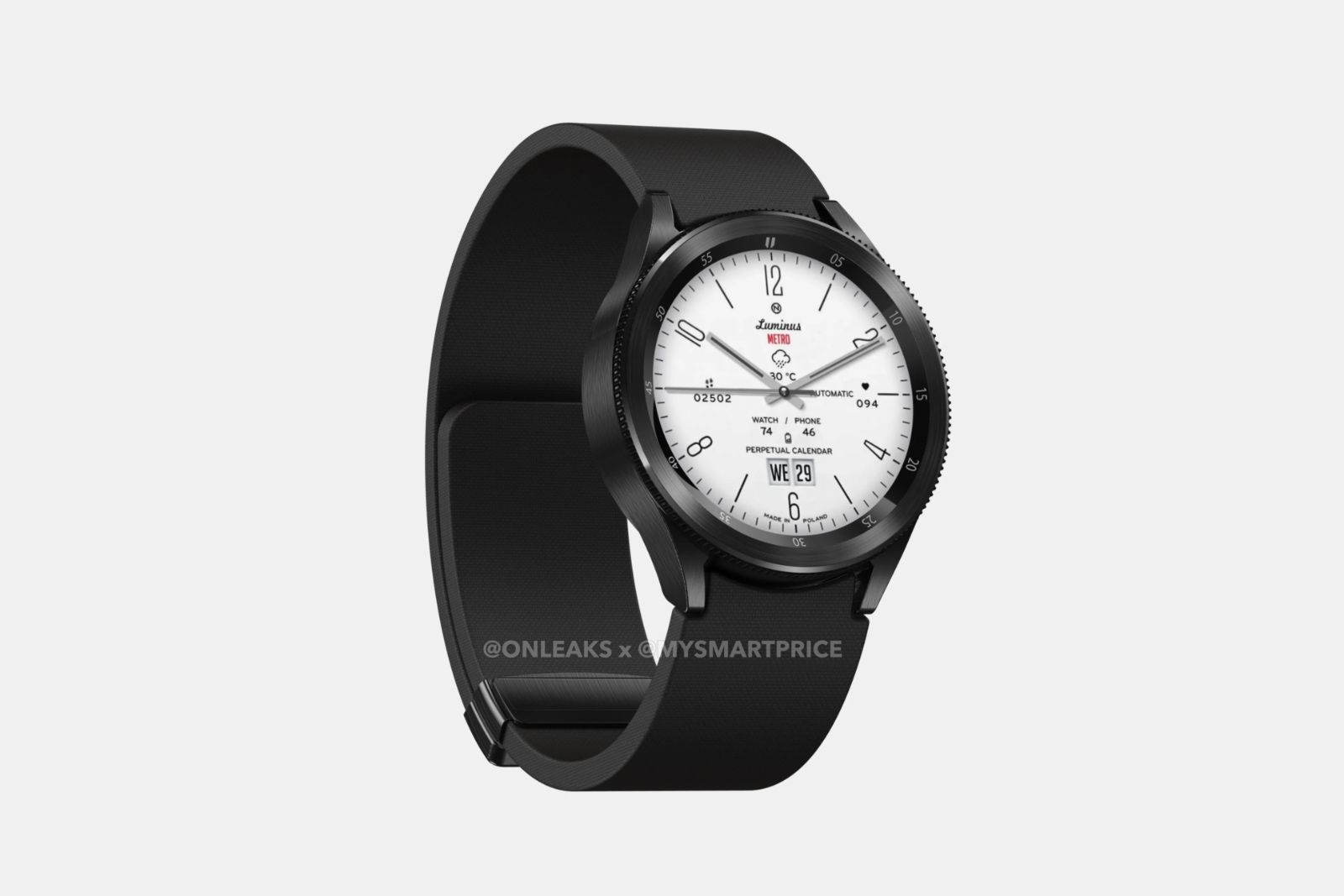 OnLeaks/MySmartPrice
Other expected features include a 425mAh battery, plus the usual advanced fitness tracking tools like all-day heart rate, ECG, sleep tracking and everything else you'd expect from a health-tracking smartwatch. The bottom looks like the current models, so it's sure to have similar wireless capabilities.
When will the Galaxy Watch 6 launch?
Also posting details of the 5K watch, Onleaks and MySmartPrice we have said that we may see the launch of the Galaxy Watch 6 sometime this summer, alongside them Galaxy Z Fold 5 and Galaxy Z Flip 5.
In particular, it is said that we will see new clothes and a folding area sometime in July, which will be in line with the introduction of the last few years. Samsung usually launches its S-series phones at the beginning of the year, with new foldable phones and smartwatches in July/August.